The Hub chatted with Cassandra Mellon, CSI, CCPR, Director of Architectural Sales at ROCKWOOL about becoming a Founding Member of the Hub, and the biggest challenges and opportunities she sees for the building industry.
Why is building performance important to ROCKWOOL right now?
The ROCKWOOL Group is the world's leading manufacturer of stone wool insulation. We offer a full range of high-performing and sustainable insulation products for the construction industry. Stone is inherently durable, and infinitely recyclable, and our intent is to make lasting impact across generations. All of that is right in line with taking action to protect our climate while we simultaneously rebuild from this pandemic.
The past year has shown we need to reimagine urban living so we create more resilient communities that can face the challenges of tomorrow—and buildings are a critical part of that. ROCKWOOL recognizes the powerful role our products can play in the process of reimagining our buildings by improving energy efficiency and fire safety, while creating a healthier indoor climate. Our solutions reduce building energy demand by improving building envelopes, which has the double benefit of facilitating the decarbonization of the energy supply and providing extra flexibility for the grid. In addition, lowering demand for heating and cooling makes it easier to have on-site renewables that cover building demand. Furthermore, saving energy, even when that energy is renewable, reduces the overall energy system capacity needs, thereby making the transition to renewable energy even more affordable, which is essential for a socially just transition.
In the DC area, ROCKWOOL has been a part of a number of notable and award-winning projects that show what is possible in terms of building performance. For example, we were part of the building envelope project led by SmithGroup for the DC Water headquarters. We also worked with Hickok Cole Architects on the American Geophysical Union project, proving that a historic renovation can achieve net zero energy use. In Silver Spring, we did insulation for the Unisphere, which was the largest commercial net zero building in the U.S.
In addition, as a company, we are working to decarbonize our business and value chain. We have prioritized our sustainability efforts, and just recently committed to verified and approved Science Based Targets initiative (SBTi). These targets will reduce our lifecycle greenhouse gas emissions by one-third in 2034.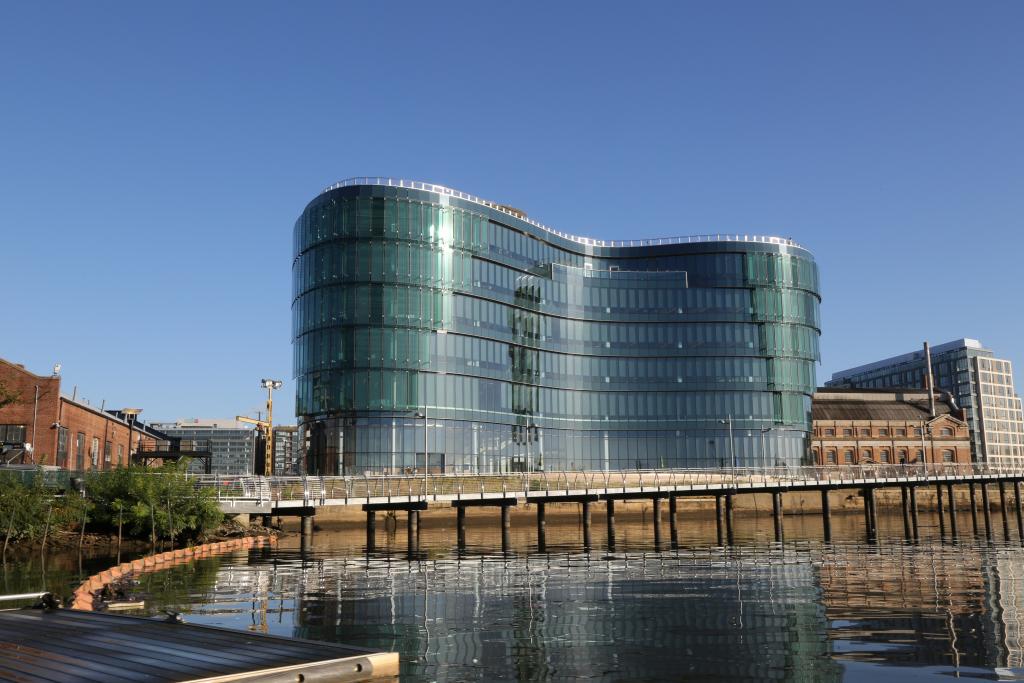 What role do you see the Hub playing in improving DC building performance?
We've worked with the Building Energy Exchange in New York City and have seen how that has provided a nucleus for community stakeholders. It's driving building performance education there, and we are hopeful the Hub will replicate that for DC.
By providing resources and opportunities to connect and collaborate across sectors, the Hub is well-positioned to be a leader in shaping the future of DC's built environment. Showcasing best practices and solutions will help drive innovative local collaborations and produce new opportunities.
What are the biggest challenges and opportunities for DC commercial real estate in the next 5 years, and how does building performance fit in?
DC is an incredible market for retrofits. The building stock is prime for it and it's really only through retrofits that we can address carbon emissions on the scale that is needed. At the same time, we are still building awareness of the importance and value of high-performance buildings, and the challenge is to help more companies see that this is worth investing in. Part of what's needed is to help owners and the design community focusing on energy efficiency first and to understand how to strategically incorporate that into project timelines and processes to keep everything affordable and timely.
We also need to accelerate efficiency through energy reduction code and policy. A good example of this is New York City's Climate Mobilization Act, that passed in 2019. The central piece of this legislation was Local Law 97, which set specific emissions limits for large buildings. DC's Building Energy Performance Standard similarly provides a framework that we can then fill in with education and understanding. Now that the framework is out, industry can provide innovative approaches to how we meet the targets. We just need to help everyone think creatively as this is inherently both an opportunity and a challenge.
What are you most excited about accomplishing in partnership with the Building Innovation Hub?
ROCKWOOL fundamentally shares the Hub's mission to disseminate information about what's possible in building performance, and to transform the built environment to be more sustainable and socially beneficial, particularly in the Capital Region. We will be opening our newest manufacturing facility in West Virginia, just 90 minutes from DC. This will include an interactive Brand Experience Center where we will be able to share our solutions directly with interested members of the building industry. We have had this opportunity in Canada, but not in the U.S. This new facility will produce material for the Mid-Atlantic market and Northeast, so people will be able to see exactly what will go into their buildings. This will enable us to share how our products relate to the embodied carbon and circularity conversations within the built environment. We want industry to understand how these products can fulfill the needs of more sustainable buildings, and can therefore contribute to more resilient communities in the decades ahead. We think DC can become a model for other cities, demonstrating how the business community can rise to meet the challenges we face with solutions that are practical, affordable, and ultimately produce better buildings that will withstand whatever lies ahead.